The Yearly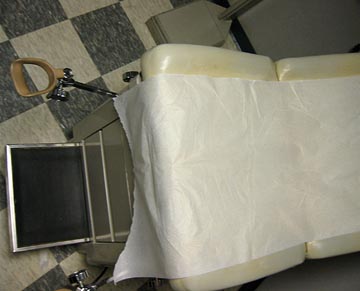 Every year as I woman, I go off to my yearly OBGYN
appointment. I am ever so tempted to write OGBYN
-just because and not only because I'm a bad speller.
Sometimes it's spooky there. Not in a bad way. Just
in a, 'HEY JUST INCASE YOU FORGOT YOU HAVE
SOME EGGS AND CAN MAKE BABIES' kind of way.
Child Magazine. Parent Magazine. Family Circle.
Highlights. Children running in the lobby. Women
pregnant. Photos on walls of moms kissing the
heads of tiny, tiny babies. Couple holding hands
trying to get pregnant. Young girl looking as if
might pregnant but not wanting to be. Woman
knitting baby blanket. It's no wonder I'm not
spontaneously impregnated by merely sitting
in the waiting room.
I enter the exam room. I am asked to remove
the 'lower half' of my clothes and my bra. 'Sorry
we are out of robes.' Out of robes here is like
being on the can with no TP. Hung out to dry.
A woman screams bloody murder from the
area next door while I sit waiting in a cold
purple room. When the female Doc comes
in I ask, 'Is she ok?' to which she responds,
'Yes. I just had to perform a procedure on her.'
to which I say half joking, 'Pease don't do the
same on me'...