TURKEY DAY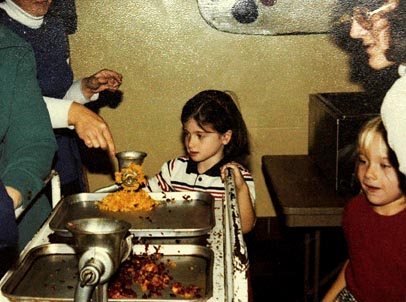 This is a photo of me grinding some spooky looking side dish for my Long Island school Thanksgiving lunch. Even more scary is that I still have the exact same hairstyle today.
Wish me luck as I plunge forth into holiday hell. Each year my mother-suffering from empty nest syndrome-fills her home with as many humans and pets that one house can possibly hold. Last year we had so many people around the table I sat on a chair behind the second row of chairs with my plate on my lap. I had better seating at a recent Knicks game. My favorite story was the year we finished dinner and my father looked down at the shaggy, well-fed mutt at his feet and said after a moment's pause, 'Who's dog is this?'.
This year's table will include-my hairdresser sister and her two gay guy pals-one from England, a movie critic, an ESL book editor, a MTV host, a Vegan, a history buff, a ranked Scrabble player, a Long Island construction worker, a X-Ray tech, a Psychiatrist and a lot of booze. Tradition has it we all go around the room to say what we are thankful for. One year I said I was thankful for John Glenn. And I really meant it. This year I think I'm just thankful that there is a psychiatrist at the table.
What will you be doing?