MY DUANE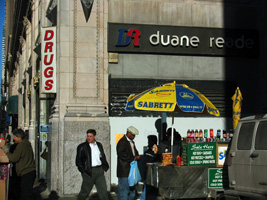 New Yorkers love a good drug store. Especially this New Yorker who has adoringly nicknamed the local Duane Reade by my work- "My Duane'. You have to understand-unlike the suburbs there is hardly anywhere in New York where one can one stop shop for everything from TP to condoms to roasted peanuts. And not to mention most of it at a fairly reasonable price.
In contrast, I grew up in a small town where there was only one tiny drug store to cater to all of our needs. The aisles were sparse and the products were often dusty, super outdated and also very expensive. Once in junior high school, word got around that the drug store was actually selling crimping irons. Remember those??? By the time I rode my bike there they were already sold out. (They had bought three.)
Our small town drug store did have it's perks however. You could often 'pay later' if you were in a rush or had too much in your hands to get your wallet out. Should you forget your prescription, the pharmacist was often nice enough to fill it for you as long as you 'brought back the slip later'. While these were the perks, sometimes the small town intimacy was a little too intimate. Especially in high school when I was forced buy birth control on a monthly basis from my former small town Girl Scout troop leader. You don't even wan't to know what badge I got for that.