ME IN HIGH SCHOOL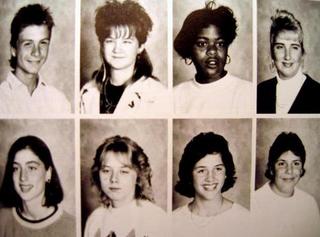 I was too busy to post yesterday and today as well. So here is a scary treat for you to enjoy in the meantime during my writing absence.
This is a photo of me in junior high school. (bottom far left) As you can see from the photo - times were rough. First off, my own mother didn't even teach me about eye brow plucking. I find this cruel and unusual punishment. I look like my Long Island Junior High School's Latvian exchange student.
Secondly, that hair. Oh god that hair. It's like a triangle. I look like a man. I look like that really hot guy in high school who had super long hair and then decided to get it cut but couldn't quite go 'all the way'. You know that guy. Everyone knows that guy.
Thirdly, that sweater. I blame Benetton for an entire closet of entirely too expensive ass clothing that couldn't even dress up a nice Latvian boy like me.