OFF TO MAINE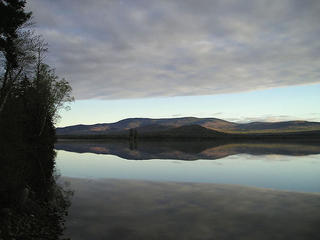 Thanks to the generous Clark family, we are off once again to our annual trip to Maine. I guess this means I have to leave my straightening iron and high heels at home. Just kidding.
Last time we were in Maine on the porch with this exact view- it was a rainy day. The cabin is usually filled with friends also visiting but this time it was only E and I. The weather was kind of cool and we lit a fire and were under a blanket. Ella Fitzgerald was on the radio. It was all very calm and peaceful...except for E who was squirming around like a newborn baby and excusing himself to the bathroom like...5 times every 5 minutes.
K: What are you doing? (After 5th time back from bathroom)
E: Ah...nothing. (wild look in his eyes)
K: (back to reading)
E: Hi.
K: (looking up) Um...hi crazy man. Are you getting cabin fever?
E: No. (literally looking drunk at this point)
K: (back to reading)
E: (squirm) Can you sit up for a second. I have something I want to tell you.
And then I sat up. And then before I knew it some words were exchanged, some Prosecco was drunk from plastic camp coffee cups and I had a beautiful ring on my finger. I said yes.
Then...
The rain stopped.
We went for a canoe ride on the lake.
We cooked a delicious meal of fresh corn and burgers.
We talked about our future life together.
Sometimes things in Maine are that simple.