THE ANTI-ANTI-BACHELORETTE WEEKEND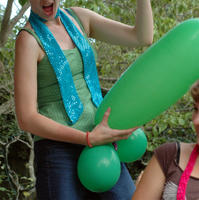 This weekend I invited the 'ladies' for an 'anti-bachelorette' weekend in the country. My parents were out of town and we had the whole place to ourselves. Woo Hoo. When I invited them for the anti-bachelorette weekend I really meant it. You know. None of that 'stupid', typical bachelorette style crap. Yeah right.
If there was any crew that was NOT going to let me get away with playing it cool it was this one. There were penis necklaces and penis balloons and penis candies and penis drinking and trivia games and drinking and drinking and drinking oh my god the drinking. There were photos I hope never see the light of day (yeah right). There was champagne and lobsters and fresh corn and then all of us walking downtown late at night with glitter scarves tied around out necks, heads and waists to go 'dancing' on the docks of the clam bar. We got a 'bachelorette' break on the cover charge to get in. The cover band played Van Morrison and Jackson Five classics. We drank Pina Coladas. We got our photo taken next to a white limo. I mean you really couldn't have gotten more sterotypical bachelorette style if you wanted to. And you know what? It was hilarious the minute I let go and stopped being so serious.
Good friends know when to get you out of you shell. They wait for you to warm up (without judgement) on being the center of attention. And when you finally do step up to the plate - wearing white pants, a white tank top with E's name scrawled in silver studs, a penis candy necklace, a blue glitter scarf tied around your neck, clutching a Bud light, dancing and singing your guts out to a bald, mid-forties, overweight cover band singer's version of Outkast's 'Hey Ya!' ... there is just about nothing better that could happen in the world. Except maybe be E's wife.