THE TIME IS RIGHT FOR...OHIO!
Miss Teen Ohio 2005
Last night I tuned into some trash TV watching - The Miss Teen USA pageant. It was great. E seemed pretty excited too. Figures.
There are quite a number of comical elements about the whole thing. The ridiculous outfits they choose for 'evening gown', the jerky movements and crunched up nose faces they make to look cute for the the camera, the things they say, the panel of judges they flash to now and again which this time included Mrs. Hilton (mom to Paris and Nicky) who clapped her hands awkwardly like a dolphin.
Another distracting element was the script writing. The writers use these weird phrases to introduce the various teens. Here are some examples:
Coming into town...California!
This is it...Kansas!
Jump if you want...Georgia!
Say it like ya mean it...Nevada!
Pass the toll...Michigan!
Pop it up...New Mexico!
Pop it up? What? What are we talking about here?
E was bummed that his pick for Miss Teen Missouri (slut) didn't even make it to the top ten. This is her - painted on eyebrows and all: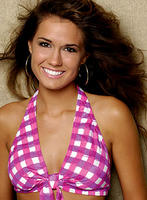 I mean really people. There is no contest between her and the winner. After all Miss Teen Missouri's favorite food is 'Jack Links Peppered Beef Jerkey'. Need I say more???
Miss Teen Ohio 2005 won. I liked her although I must confess I originally was voting for Miss Teen Michigan. But Miss Teen Ohio had such an energy about her. A real 'stage presence'. I sound like my grandmother. I also liked that her favorite song is 'Eye of The Tiger' and her favorite food is 'Aunt Connie's chicken salad'. That seemed wholesome and nice.
This is what she won:
-1 year modeling contract
-Custom-designed wardrobe
-4 days in Mexico
-a scholarship to college
-one-time appearance on a soap opera
And what appeared to be the only huge bummer in the whole deal...'during her reign she will share a Manhattan apartment with Miss USA and Miss Universe'.
I mean give the girl a break people. New York living is hard enough much less having to share your small Manhattan apartment with Miss USA and Miss Universe. I mean, think of the closet space for one. The limited number of outlets for hairdryers and straightening irons. And some days in general you just don't need the pressure to be the 'best that you can be' among your roommates. You just want to look like shit, throw on your sweat pants, not wash your hair and stuff yourself with chips and well...watch the Miss Teen Universe pageant.