WHAT 32 IS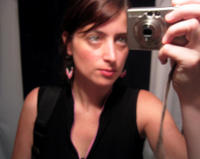 Today is my bday. I am 32. At 32 I've:
1. Only been on a roller coaster once
2. Once ate a steak dinner on the Forbes' yacht
3. Lived in England
4. Played on the actual drum set used by Artimus Pyle from Lynyrd Skynyrd
5. Volunteered in a Jamaican hospital where a woman died in my arms
6. Played bass in a pop punk band
7. Grew up with possibly the world's oldest living chicken
8. Stole Halloween candy from the kid I was babysitting for
9. Got thrown out of the Tate museum for laughing too loudly
10. Worked in a perfume factory one summer
11. Am a fantastic backgammon player
12. Was a model in a PAPER magazine fashion show (back in the day)
13. Wrote and published an article about transexual female wrestlers
14. Got hit on by one of the Beastie Boys at a party
15. Shook hands with Tom Hanks
16. Wore a tuxedo while catering and had Bill Gates take a wine off my tray
17. Used to give poetry readings (cringe) in college
18. Once had a subscription to Thrasher magazine
19. Love to draw
20. As a kid was in an ad with Lorne Greene of Bonanza fame
21. Was a Hospice volunteer at Cabrini Medical Center
22. Had a proper ten course meal in a chateau in France at Easter
23. Have always been good with kids
24. Know how to play the flute
25. Had two commercials I wrote go on air
26. Had lunch with Henry Wrinkler aka 'The Fonz' when I was a kid
27. Was named (middle name) after my father's friend that drowned
28. Was lucky enough to mentor a number of kids I am still in touch with today
29. Got locked in a stairwell for 45 minutues at my first job
30. Designed a prop that appeared on Nickelodeon kids show 'Double Dare'
31. Met the love of my life
But I have yet to be 32.