GEEK LOVE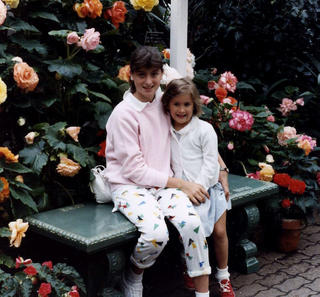 As part of our wedding planning we've asked various family members to contribute photos from our past as a little something we are gathering as a surprise. I have to say the photographic gems that have surfaced as a result have been quite a treat...and a horror.
Take for example this photo. The one of my sister and I. Me dressed like the biggest uptight 80's teen you might ever meet. How long it must have taken me to press those triangle patterend pants, so long to roll those cuffs, part those bangs in the middle so perfectly, wipe off those white shoes of any stains, etc. The thing that kills me most about this photo is my kid sister's face. For whatever reason she used to smile like this in photos for years as if someone were touching her inappropriately from behind. I can honestly say it still cracks me the hell up to this day.
I showed E this photo and he said:
E: Nice hair! (sarcastic snort)
K: What's wrong with my hair?! (defensive for no reason)
E: Um..it's BAD. And parted down the middle. And big and puffy. Nice pants too.
And then I pulled out the big guns:
K: Oh yeah? Well nothing can top this!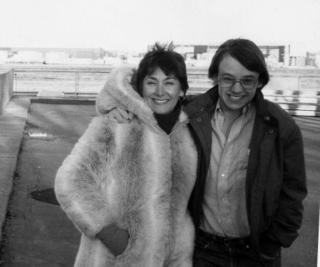 E: Oh god. Where did you get this?
K: That's right. Oh...but let me tell you...your hair looks GREAT here.
E: What happened to my nose?
K: Did you have plastic surgery and you haven't told me?
E: NO!