GIRL IN A BUBBLE
When E first met me he nicknamed me 'girl in a bubble'. The nickname was fitting because it seemed everywhere I turned I had some new ailment brewing and it almost seemed unwise for me to step outside. I had allergies and skin rashes and stomach pains and asthma and bloating and pains in my legs and extreme extreme extreme fatigue and extreme weight loss and weight gain and blah blah blah. Granted at the time we met I was going through some severe stress and I am smart enough to know it is all related but still...for a youngish, seemingly healthy woman it all seemed a bit confusing and a little much.
Now that we've been together for so long things have been a 'tad' better (I can hear E snorting from the other room) however things come up now and again. For someone who has all these stupid things happen to them it is almost better when a physical thing that everyone can see happens (like a rash) rather than just describe myself as suffering from 'extreme fatigue'. It's crazy but it's like unless I have a giant skin rash everyone can see no one will believe me. Ok. Me crazy. Back into my bubble now.
Perhaps you may recall the past incident when E and I and went to meet a friend of ours and his Christie Brinkley like beautiful wife for dinner. We went to New York's famous Katz's deli. Everything was going great until slowly I started scratching my face and had the sensation my lips were a little swollen. Ignoring it I continued with my story and finally our friend's beautiful wife said, "Um...I think you may have gotten bitten or something under your eye..." Shrugging it off I said something about always having allergies and I'm sure it was nothing. By the time we left the place and we all walked to the subway, I noticed people STARING at our friend's beautiful wife and I. Little did I know they were thinking to themselves, "Awww...isn't that nice! Christie Brinkley made friends with that scary egor guy from the movie GOONIES."
Needless to say I woke up the next morning and headed straight to the emergency room looking like THIS: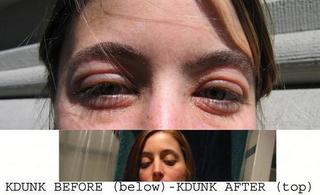 I still to this day don't know what happened. I had corned beef and some pickles. Did I get bit by something? What did I touch except E's leg under the table now and again or the Katz's menu. Add it to the filing cabinet of KDunk ailment mysteries unsolved.
This year I've had my fair share of ailments. An incorrect diagnosis with Celiac Disease. And increased asthma over the past three months. I used to use and inhaler once a year and now close to three times a day. When this happens it feels I am sucking through a pinhole opening of air. Can't ever get enough. Yesterday I was in a meeting at work with the CEO of a major TV network and I felt like I was going to die. Scary.
So yesterday I went to an allergist. He wrote with a fountain pen. He made jokes. He stuck a thin long tube down my nose/throat and took a video which he burned me a CD of because I so geeked out and wanted to post it on my Vimeo. He gave me a bunch of shots in my arm to see what I was allergic to.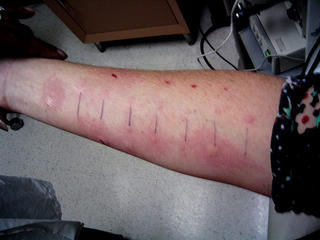 In the end he said this, "When you say you feel like you are sucking air at times through a pinhole it is because you are. Do you see your voicebox here (pointing to the video of my voicebox opening and closing rapidly) most people's voice boxes stay open at all times. Yours is closing because of a minor infection in the throat." I found the whole thing fascinating except the part where he told me I had to come back in two weeks or so and do it all again.
Overall it was a positive experience and I was happy to hear what was going on with my breathing. But um...in case you don't believe me you can check out my Vimeo later.