FAT SUIT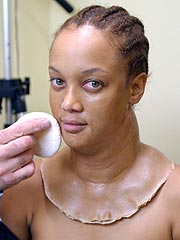 You know what is annoying? The media. Specifically morning talk shows that I tune in to only for the purpose of distracting me from my boring morning excercises. I hate how they always get stuck on one subject and all of the sudden it's all the rage on every network.
The subject this week seems to 'fat suits'. Yes. That's right people. Out of all the important things going on in the world currently the news media feels they need to focus on 'behind the scenes' experiences of various pretty girls and models wearing 'fat suits' and how people treated them. Badly. Gasp.
Have you ever watched something so annoying that you just physcially want to scream in frustration? That is how it felt this morning as I watched Katie Couric wearing a blazer apparently made out some NBC CEO's former office drapes, scrunch up her well plucked brow in deep concern as a model shared her story about wearing a fat suit and asking Katie to please repeat the question.