LETTER OF THE WEEK: MR. S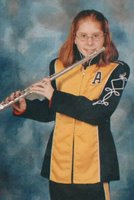 Dear Mr. S My Male Flute Teacher From When I Was A Kid:
I'm sorry I was always ALWAYS late for flute lessons. I'm sorry for all the times I would show up for flute lessons...without my flute and would have to use your spare often right after eating a sticky Jolly Rancher or something equally as horrible.
I'm sorry I was a child spaz. I'm sorry that sometimes I would ride my bike to your house with my flute and a loose check (sorry Mom) in the basket of my bike, the weight of my flute holding down the check but then the check would blow away out of the basket without my noticing by the time I got to your house and then you would be nice and say 'Just bring it next time'. Sorry I would never remember to bring it next time. Ever.
Sorry for never practicing my scales and pretending that I did. Sorry for faking it in musical competitions and recitals - some of them quite highly competitive and just barely making it by the skin of my teeth. Sorry for making second chair and not first even though I didn't deserve either.
Sorry for when I got to high school (still playing the flute god knows why) I would cancel last minute on you to go make out with my boyfriend instead. Sorry for never giving you any of my medals much less my John Phillips Sousa Award - the premier award given out to one high school kid a year. Sorry for not inviting you to the John Phillip Sousa Awards dinner with my parents so you could clap and saw into your very own rubbery piece of Chicken Cordon Bleu. Sorry for the time you invited me over one weekend to watch an opera with you and your lover B - your favorite one of all times - me and two gay men sharing a bowl of popcorn and I yawned and sighed through the whole thing and felt like I was about to die when all you were trying to do was show a small town girl a thing or two outside her very, very tiny Long Island world.
Sorry for never reading the book you wrote and gave me a signed copy of. Sorry for the year B your lover died. A kind man with a lovely soul and a beautiful garden. Sorry I never wrote you a card or came by to tell you in person how much I would miss him.
Sorry I didn't invite you to my first wedding and then you found out from a friend of a friend that I got married and told my mother on the street downtown that it hurt you not to be included but you did wish me a happy, happy life. Sorry for the thoughtful Christmas cards you wrote me every year on cards featuring an ink drawing you did that was so creative and amazingly talented and I never wrote you back.
Sorry for not stopping when I drive past your quiet dark house when I am home for the holidays. The gardens overgrown. The occasional shadow of you shuffling past the windows while I put the pedal to the metal and pretend I don't see.
So many sorries yet also so many thank yous. Thank you for your patience for all of those strange years. For your ability to make my heart swell with love and creativity and powerful, passionate feelings for music as I sit in a midtown office during the middle of the workday listening to Debussy's Claire De Lune and thinking of no one but you.