TRANSIT NIGHTMARE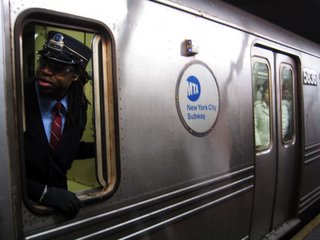 I almost don't want to write about the stupid transit strike because secretly I think it will give the whole situation more power somehow but what...a complete bummer.
Yesterday I left our house around 8:30am. Luckily E was able to drive me in a friend's car to the Flatbush LIRR station in Brooklyn which took up 30-40 minutes (normally 15 mins). From there I ran into my old co-worker who had waited on the ticket line three people away from reaching the machine and I cut in. (Horrible I know) Right before we were about to get tickets the train pulled in and we overhead a cop telling people that you don't need a ticket afterall and to just get on the train. So we did. We got on the LIRR train to Jamaica Queens (20 mins). When we got out we had to cross over several platforms, go down several steps and come out into the street where we were cattle driven into a S shaped line about seven rows deep. A man with a megaphone yelled, "TICKET HOLDERS THIS WAY. EVERYONE ELSE NEEDS TO WAIT ON THAT LINE!!!" We turned our head to see what 'that line' was and it was grim. Super grim. This photo doesn't even do it justice. It was MILES long.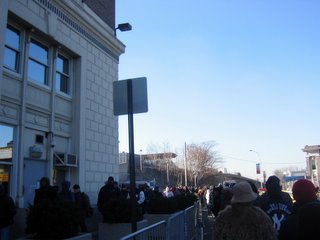 It was FREEZING. Not just cold but the kind of cold where it's possible all of your ten toes have snapped off inside your shoe but you won't find out until later when you take your shoe off and they spill out like marbles. Awful. We waited on this line for 45 minutes and kept punching ourselves that we listened to that stupid cop guy at the last station about not getting a ticket in advance.
After finally weaving our way through we boarded a train from Jamaica to Penn Station which CRAWLED along. We were going so slow it's possible we could have walked to Manhattan and gotten there faster.
Once we arrived at Penn Station we had to hoof it up 15 blocks to an edit and then I had to hoof it back another 15 blocks back to my office.
Luckily a co-worker was able to give me a ride home in his car although a normal 1/2hr ride back to Brooklyn instead took 2.5 hours.
My normal commute in a day is a bit over an hour and back. Today took 5.5 hours.
I look forward to doing it all again today, tomorrow and possibly all next week when I return back to work until this thing ends.
Happy holidays!