HOOKED ON HOOP
Nothing screams BRING ON 2006 like...
(1) putting on your $11 Strawberry's black and gold lace shirt that either screams 'cool' or suburban mom dressed up in 'something wild' for New Years Eve
(2) attending a pot luck dinner in Brooklyn
(3) drunk hula hooping to ipod tunes in a friend's living room into the wee hours of 2006! And I'm not kidding!
KDunk rocks the hoop!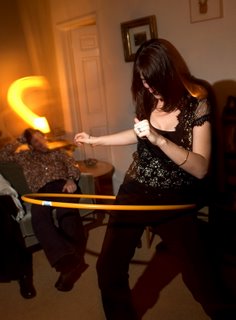 *photo by slower.net