PATTERNS
Yesterday...I enjoyed reading an interview conducted with our friend
Mark Powell
. Mark is a talented photographer and fantastic writer with a lot of good stories to share. Mark is originally from Detroit and is now living in Mexico City with his beautiful/talented wife and adorable son. I met Mark for the first time in Mexico City where he invited E down to give a lecture on his work. I hope you enjoy the read as much as I did.
***
Today a friend's blog sparked a memory for me I hadn't thought of in a while. I was reminded of a time - the summer before my sophomore year of college. I was living at home with my parents and once again working in my small town on Long Island. My boyfriend of four years and I had just broken up. I felt unsettled and creatively numb. Lucky for me, before summer kicked off things changed. I befriended a group of transplant hippies from Michigan, California, North Carolina, etc. that had rented a small house not far from mine.
Despite the hippie cliche - complete with VW vans and dreadlocks - they were a happy, freckled, super talented group. They sewed their own clothing, took amazing photographs, cooked amazing meals, wrote and played music and did just about everything I was interested in but always afraid to fail at. I made great friends with a girl in the group named Cypress. The summer was full of beach bonfires, playing music, making fantastic meals and taking long drives in VW vans to skinny dip in local swimming areas I'd lived near my entire life but never knew of. It was an amazing summer. I was able to rediscover a place I'd lived my entire life only with fresh eyes.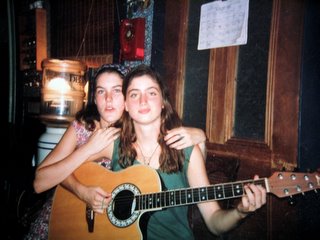 By the end of summer the dream ended. The new easy going, care free me packed up my belongings and headed back to my small liberal arts college in Virginia. The adjustment was tough and the reminders of my new fake 'reality' were simple - a college quad without a single leaf on it's pristine surface despite it being Fall.
As promised, Cypress came through Virginia on a visit following the Phish tour. She stayed an entire month with me in my sterile college dorm. She scored some free meals from the college cafeteria and then decided to move on to her next adventure. When Cypress left I felt a combination of loss and some relief. I admired her carefree lifestyle but came clean with myself that I wasn't exactly cut out for it. I wanted some of it in my life but not all. Cypress was out seeking the next adventure in life while in some respects I waited for it to come visit.
My life has continued to have these funny patterns. Control. Lack of...wandering. Control. Lack of...wandering. The past few months have felt a little too stifling and in control for my taste. To break things up I've accepted a new job this week. It's less money but involves the possibility of following a dream. It's a start.