BRIDAL BROUHAHA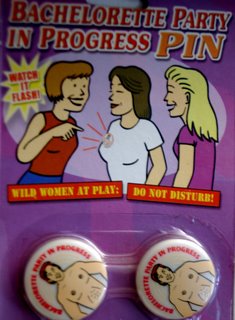 My friend A is getting married this October. Today we host a bridal shower for her and tonight is a night on the town 'bachelorette style'.
These types of nights always amaze me. They are often full of strange traditions that I never understood and in some sense seem from another time or place or just entirely made up all together. Make your friend wear a penis crown and penis earrings. Make your friend wear lace underwear on top of her pants and a veil while dancing. Make your friend get one last kiss from a guy before she is married. Where did these traditions come from? I'm guessing New Jersey but I could be wrong.
For my bachelorette party I invited a bunch of women friends out to my parent's empty house for the weekend. My idea was to trick them all into thinking it was a mellow weekend away in the country and avoid any of the traditional and horrifying bachelorette madness I did my best to avoid. No such luck. As I returned from the train station to pick up another friend that had just arrived, I drove up to my parents house only to see a GIANT penis balloon complete with balls sticking out the front door of the house to greet me. The rest of the night went pretty much down hill after that - two words - Jello shots.
Yesterday I got a call from B - my friend who is a young Mom with twins under two living in Minneapolis. She is flying in without kids today to join in the bachelorette fun. B is in charge of getting all the embarassing penis themed crap that NONE of us like but the future bride does. The call went something like this:
B: K - It's B.
K: Hey! How's it going?
B: Good - I'm in a sex shop with the twins in a Minneapolis mall.
K: hahahha
B: Is a penis pinata too over the top?
K: Uh...
B: (whispering to kids) - Honey, Don't touch that - that's for adults.