CHURCH FRIENDS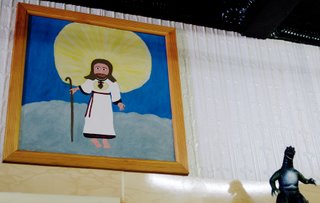 On Sunday we woke up early and E said, "Let's go to church." Then pigs flew past the window and frogs fell from the sky. It's the truth I swear. At least the first part.
Why church? I asked him. Why not? was the answer. Duh. A chance to get to know the community? A peek inside a world unfamiliar to us? A beautiful sunny Sunday morning? All I know is that there was a lot of camera equipment being packed into the car.
The church was a modest church on the other side of the pond that I've passed several times on walks in the Maine woods. A long, white building with tall windows and a tiny point with a bell on top. It was a Catholic service. The Father - a funny and direct guy - conducted the ceremony to a small, intimate sea of friendly looking, mostly elderly faces. Like most Mainers I've met, the Father used only words that were necessary to make his point. For example, if a real Mainer were writing this blog it would have been over three paragraphs ago.
The subject of the brief sermon was rejection. He reminded everyone that at some point we all face rejection so why take it too seriously? Get on with it so to speak and if you know someone who faces rejection show a little compassion. A friendly soccer Mom type woman with a kind smile came up to the podium and reminded us all of the more serious forms of rejection to consider. The small town kid that got rejected for scholarship money and will not be able to attend college. Someone gets rejected for a kidney. Then because it's church there was some body of Christ bits. Some ringing of bells. And sooner than expected it was all over. Afterwards we thanked the Father for the sermon. There were a few photos taken and we were on our way.
Later in the day we drove twenty minutes outside of town to watch the World Cup finals in a small hole in the wall in the basement bar in rural Maine. It was quite a turnaround from the morning's events seeing as before we knew it we were chomping on chicken wings, drinking beers in the afternoon and cursing at the TV over the soccer play by plays.
After the game E said he'd meet me outside. I emerged from the darkness of the pub only to notice people had gathered in the middle of the town square on the big green lawn next to the fountain and gazebo. People sat on red and white picnic blankets, kids were dressed in floral and khaki, dogs had bandanas tied around their necks and practically everyone came equipped with collapsible camping chairs. It was like a LL Bean catalog come to life. For musical entertainment there was a bearded man in lederhosen who strummed on an acoustic guitar and a woman in desperate need of a haircut that played a harp. The music was folk music and the tunes sounded like the soundtrack of the spoof movie, "A Mighty Wind."
A sudden tug on my left sleeve distracted me from the entertainment. To my surprise it was the soccer Mom woman who gave the reading from church this morning now wearing sunglasses and a tie-died Florida Gators tank top.
Woman: Hello. You were in church this morning!
Me: Ah...yes! Yes I was.
Woman: Good to see you.
Me: You too!
Woman: Father's quite a character isn't he?
Me: Sure is
Woman: Well have a nice day
Me: You too
Woman: Enjoy the music!
E finally emerged from the bathroom.
K: Honey, it's time to get out of here.
E: Why?
K: And do you have a mint?
E: Why?
K: I have beer breath and worse...I'm starting to run into our church friends