LETTER OF THE WEEK: DEAR DAD
Dear Dad,
Remember when I was 14 years old and you and Mom forced me to leave my skateboarding friends back in NYC during the middle of the summer to go on a family trip to all places...MAINE (ugh!)And we went to some random cabin on a lake to visit your friends we hardly knew and I seriously thought you guys were ruining my life?
Do you remember how I complained the lake water was 'dirty' and that the blueberries tasted like 'sand' and spent most of the time in the top bunk of my room ripping out pages from my Thrasher skater magazine and tacking them to the wall wondering when I'd ever get back to REAL LIFE? Well if you don't Mom does. And well...here I am in Maine 19 years later - by choice - and I am sorry for all the crap I put you guys through on that trip. Am thinking of you.
Today we took out the canoe at sunset and went around an island. An island that is for sale. You know how you and Mom sometimes talk about buying an apartment in New York City - pish - why not your very own island here in Maine?
Although...you may need to get a boat so Mom can run errands off your island or so that you can go get the New York Times in town but I think it's worth it. Why? Did I mention your island comes with an American Bald Eagle? I highlighted it here with a yellow arrow. Really. I saw it with my very own eyes.
Here is your island at sunset Papa. Talk to Mom and get back to me. If only I had enough cash I would buy it for you like when Britney Spears buys her parents a mansion in Louisiana. But I'm not Britney but at least I dress more appropriately.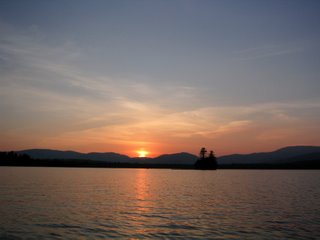 Oh - since I forgot to mention the price: $320,000
xo Dunk