OFF TO MAINE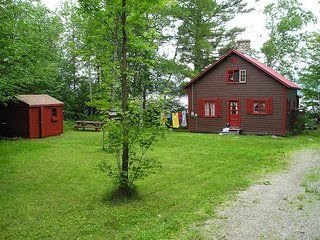 Off to Maine for our annual vacation. We will be staying in our usual spot at Camp Clark - a beautiful, simple camp in the Maine woods where we got engaged. Thanks to the generous Clark family that is kind enough to share it with us. And thanks to SC for the above photo.
I hope our biggest worries in the next few days are what they often are:
Should I bring a sweatshirt down to the beach to watch the sunset?
I think the lawn needs mowing
Do we have enough wiffle balls?
Maybe we should gather some kindling for tonight's fire
Which baseball game is on the radio tonight?
Is there enough wine and beer?
How cold is the water for my morning swim?
Which book should I read?
Should we buy another puzzle when we go into town?
And then there is always...where will we watch the World Cup game on Sunday?