WIFE SWAP
There is one show I'm not 'allowed' to watch in the house and it's called 'Wife Swap'. It drives E mad. If you don't know what the show is about the idea is that two families swap wives for a week and they film how things go down. And boy do they go down. The swaps are often between two polar opposites - a religious, conservative, stay at home wife swaps with a tattooed, green haired punk wife. Or a biker, meat eatin' wife swaps places with a hippie, raw food enthusiast wife. Not matter what they pair up - chaos ensues.
Despite not being 'allowed' to watch it I sneak it in like cigarettes when E is in the bathroom or takes calls on his cell phone. I can't help but get hooked each time I see a bit of it even if I can never quite believe how dumb the husbands are each episode. They are always 'surprised' and 'amazed' when the tables are turned and they are required to follow by the rules of their new wife. Shut up and eat your raw carrots buddy.
Tonight - E made two pizzas. He rolled out the dough, he prepared the various ingredients, he cooked the pizzas on the grill so they had the perfect smoked flavors, etc. The entire production took an hour or so and the pizzas came out looking like ultimate perfection.
As you know from my former post, it had been a hard day. The honest truth was the day didn't quite get any better from when I lost all my photographs from the month of August (read below) but the thought of a nice dinner of fresh pizza and wine sounded like it might make things better.
I set the table and we got ready to eat our yummy meal: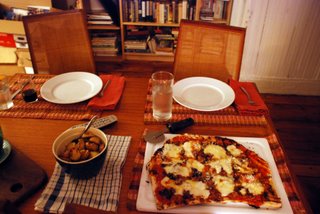 But then...like a total spaz...I set my water glass down too hard on the table and it knocked against my wine glass which then caused glass to shatter all over the two pizzas. Cut to E looking with a flashlight in desperate atempts to save our meal: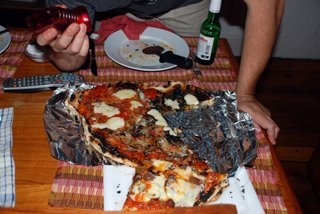 Bottom line is - today sucked. Big time. And thanks to a day of emotional ups and downs topped off with two shattered glass pizzas - I might now qualify for one of those stupid crazy women on Wife Swap. Sure. Go ahead. Swap me out for a week and replace me with a poised wife with several external hard drives that never loses a thing. Only please - just promise you'll take me back.